Thanksgiving Dinner Recipes – Plan Your 3 Course Meal!
Why do we celebrate Thanksgiving? It's simple! Thanksgiving is a time to reflect on all we have to be thankful for. Although, it's also a great excuse to eat tons of delicious foods and try some new recipes! If you are looking for the best Thanksgiving dinner recipes, you're in the right spot! From appetizers and side dishes to entrees and desserts, plan your 3 course meal with these mouth watering ideas!
Appetizers
With a holiday like Thanksgiving, everyone will definitely come hungry to your upcoming Thanksgiving dinner. Prepare a few appetizers so that no one gets hangry before the main course is ready.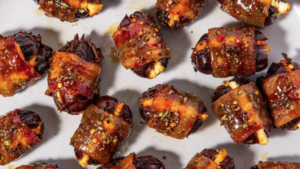 Bacon Wrapped Dates 
This simple recipe requires Medjool dates, goat cheese, bacon, maple syrup and a few spices! These grab and go snacks will hold you and your guests over until the main course is ready. Being a mix of sweet and savory, these are sure to be a hit! Check out the full recipe here!
Sausage Balls 
Sausage balls are always a crowd pleaser! Only requiring 3 ingredients, this simple yet crowd-pleasing appetizer is sure to be a big hit at your Thanksgiving dinner. To make these, add 2 cups of shredded cheese, 2 cups of Bisquick, and 1lb of sausage. Mix these ingredients together, form small balls, and bake in the oven for 20 minutes until golden brown, and they're done!
Main Course
The main course is the most important part of your Thanksgiving meal, and although you're most likely to have a turkey or ham, it can be hard to find a good recipe! We did the digging for you and came up with some good ones!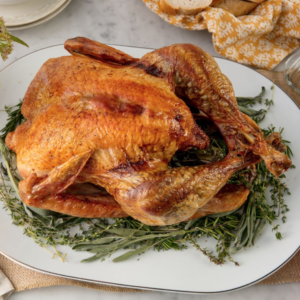 Roasted Turkey  
It wouldn't be a Thanksgiving meal without turkey as the star of the show! Preparing the main course for your family and friends this Thanksgiving can be intimidating; however, this recipe is perfect to ensure your turkey is roasted to perfection. Check out this link for more information and FAQs about how to roast a turkey for your Thanksgiving meal.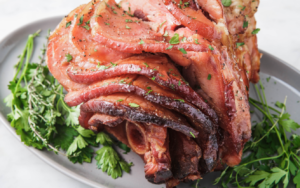 Crock-Pot Brown Sugar Glazed Ham 
Not a huge turkey fan? Do not worry! Serving a ham is a great way to have other options for your guests besides turkey, and you can easily make a delicious ham in your slow cooker! With a little prep time, you'll be ready to place your ham in the crock-pot with no strings attached. Check out the full recipe here.
Sides
Finding a side dish to pair with your main course does not have to be complicated! Make the sides we've listed below as the perfect additions to your Thanksgiving dinner!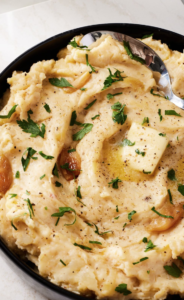 Garlic Mashed Potatoes 
Potatoes are a fan favorite when it comes to side dishes, especially when butter and garlic are involved! This side dish will pair nicely with any main course, but especially your Thanksgiving ham and turkey. Garlic mashed potatoes are easy to make and don't require a ton of time or ingredients! Learn how to make these fantastic potatoes here.
Green Bean Casserole
Casseroles are always a good option to include for your Thanksgiving meal, and a traditional green bean casserole dish will not only be tasty, but it's also a nostalgic dish perfect for bringing back fond memories of past holiday seasons. Green bean casserole is a staple dish of Thanksgiving! Follow the full recipe for this tasty side here.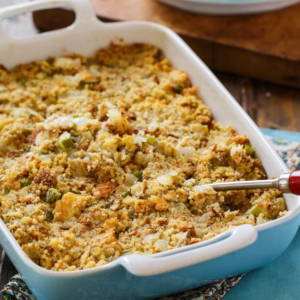 Cornbread Dressing
In the south, dressing doesn't mean the stuff you pour over your turkey, at least, not during Thanksgiving. Cornbread dressing is our alternative to stuffing, and it's a favorite side dish of southerners everywhere. This side may take a little more time and require a few more ingredients, but boy is it worth it! Check out the full recipe here. 
Desserts
Now, the moment everyone has been waiting for….desserts! Finish off the Thanksgiving meal strong with sweet and savory desserts to satisfy your sweet tooth!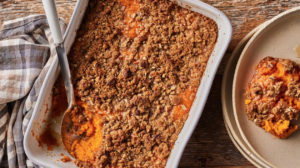 Sweet Potato Souffle 
Another staple of Thanksgiving is the sweet potato. To incorporate this into your Thanksgiving dinner, try out the sweet potato souffle as a dessert! This is the perfect combination of sweet, creamy, and crunchy. With a sweet potato base and chopped pecans for the topping, sweet potato souffle will end the Thanksgiving meal with a bang! Want to make it even better? Add marshmallows to the top! Sweet and savory! Check it out here.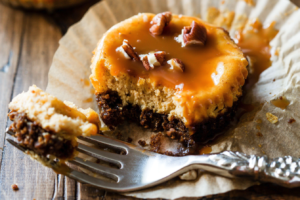 Mini Pumpkin Cheesecakes 
Thanksgiving would be incomplete without a pumpkin dessert. These mini pumpkin cheesecakes are filled with amazing fall flavors to satisfy everyone's sweet tooth! With a cookie crumble crust, pumpkin filling, and salted caramel topping, this delicious treat is full of tasty surprises! Learn how to make this sweet treat here.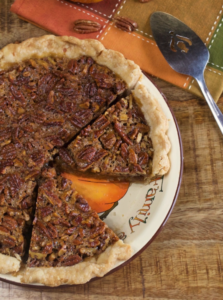 Pecan Pie
You can't end Thanksgiving without a slice of pecan pie! This rich, gooey filling baked in a flaky crust, topped with crunchy pecans is sure to make anyone's mouth water. Serve it up plain or top it with vanilla ice cream, and prepare to put on your stretchy pants 'cause you might not be able to stop eating this dessert! No matter how you pronounce it, you have to make pecan pie this Thanksgiving! Follow the recipe here. 
Contact Us
With all the cooking in the kitchen, you do not want your HVAC system to malfunction. Contact us if you need help or have questions about your HVAC system to ensure you and your guests are comfortable throughout all the holiday festivities! Simply call us at 850-857-4700 or email us at [email protected] to schedule your HVAC maintenance appointment today. 
Climatech is an American Standard Customer Care Dealer in Pensacola. For more than 40 years, we've provided Pensacola and the surrounding area with the very best in HVAC services. Need help or have questions? Feel free to contact us. Thanksgiving dinner recipes 3 course meal Thanksgiving dinner recipes 3 course meal Thanksgiving dinner recipes 3 course meal Thanksgiving dinner recipes 3 course meal Thanksgiving dinner recipes 3 course meal