Benefits of An Energy Recovery Ventilator
Have you had your windows open over the past couple weeks, letting the cool breeze wisp through your home replacing stale indoor air with fresh air from outside? In Pensacola, that doesn't last long. That's right, the summer heat is setting in and it's time to close the windows back up in order to stay cool and comfortable inside. But, did you know there's a way to still have that perfect pathway to let fresh air enter your home while pushing excess moisture and contaminants out? Achieve the perfect indoor air with an energy recovery ventilator!
Why Does My Home Need Fresh Air?
On top of most people just feeling that they want fresh air every once in a while (after sickness or after a long winter or summer), your home actually benefits from having fresh air flow through it. Since homes are more tightly sealed now than ever before to keep your conditioned air inside, allergens and moisture become trapped as well. Pet hair, dust, fungal growth, and volatile organic compounds are just a few of the contaminants hindering your home's air quality that can lead to serious health issues over time. Proper ventilation will allow these allergens and bacteria to keep from being trapped inside your home.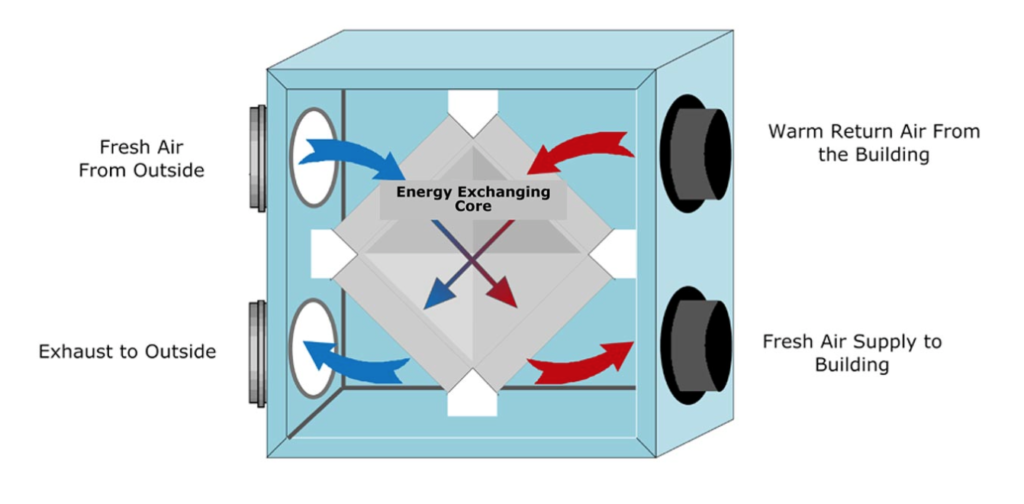 How Does An ERV Work?
Energy recovery ventilators exchange stale indoor air for fresh outdoor air by running both air supplies through one energy exchanging core. The stale indoor air mixes with the fresh outdoor air, using both supplies to produce a comfortable environment. This way, no extra energy is put toward heating or conditioning new air from scratch.
How Will I Benefit?
There are many great benefits to installing an Energy Recovery Ventilator in your home. 
Fresh Indoor Air
Instead of opening a window and letting in pollen, dirt, and other allergens, and potentially creating an uncomfortable indoor environment, energy recovery ventilators allow fresh air into your home through your HVAC system. This way you're never uncomfortable from outdoor air but still reap the benefits of it. 
Humidity Control
The humidity levels are often out of control in Pensacola, but an energy recovery ventilator can help regulate moisture levels in your home by dehumidifying air coming into your system.
Efficiency
Unlike other ventilation systems that pass indoor and outdoor air through separate pipes, ERV's pass air through one energy enchanting core, to keep from negatively impacting efficiency. Since the incoming air is basically already conditioned, the system won't use nearly as much energy heating it up or cooling it down.
Easy Maintenance
We know adding more equipment to your HVAC system can seem overwhelming, and you might be worried about the additional maintenance that comes with having an energy recovery ventilator. The good news is the maintenance for these systems is very minimal! And, when you sign up for preventative maintenance with Climatech of Professional Air, we take care of it for you.
Longer System Life
Energy recovery ventilators reduce the amount of work your comfort system has to do to condition incoming air by pre-cooling or pre-heating it before it enters your system. This way there is less strain on your comfort system which helps increase its lifespan.
How Can I Get One Installed In My Home?
It's important to have a licensed professional install your energy recovery ventilator. To speak to a licensed professional from Climatech, please contact us. Climatech Professional Air is a trusted American Standard Heating & Air Conditioning Customer Care Dealer in Pensacola, FL. Our professional staff can answer any questions you might have, and make recommendations as to which system will work best for your home or business.
You may call us at 850-857-4700 or email us at [email protected]. Be sure to follow us on Facebook and Instagram!