April is the month in which we celebrate our earth and figure out how we can better protect and respect it. One of the ways we can do that is by being more energy-efficient right in our own homes. However, most homeowners don't want to give up the things that make our lives easier. Well, you don't have to! Energy-efficiency is all about finding different ways to get the same jobs done, but doing them more efficiently. And, it's so easy to make these changes! Here are 7 areas where you can conserve energy at home.
Water
Behind heating and air conditioning, water is the second largest expense on our energy bills. While we know we need to do the small things to conserve water such as turning the water off while we brush our teeth, there's ways we can make a bigger impact. Leaky faucets, for example. If you have leaky faucets in your home, they could be wasting $35 per year. By fixing leaky faucets and installing low-flow shower heads, you can save up 25-60% on your water bill.
Windows
Although an unlikely suspect, your windows could be contributing to wasted energy in your home. Ensure all windows are properly sealed and replace broken or cracked windows. If your windows are damaged or deteriorated, you could be losing money and comfort from your home. In warmer climates, like ours in Pensacola, we often experience heat gain through windows, making it hard for us to want to open blinds or curtains on beautiful, sunny days. To save energy, replace your windows with thicker, energy-efficient windows. These windows don't allow as much heat transfer and make it to where you can look outside on those beautiful days.
Lights
While turning off the lights when you leave a room saves a little energy, there's a much more efficient option: replacing all light bulbs with LED bulbs. According to USA Today, having LED light bulbs throughout your house can save you around $9 on your energy bill every month. While that may not seem like a lot, those savings, along with the savings from how long these light bulbs last, add up over time.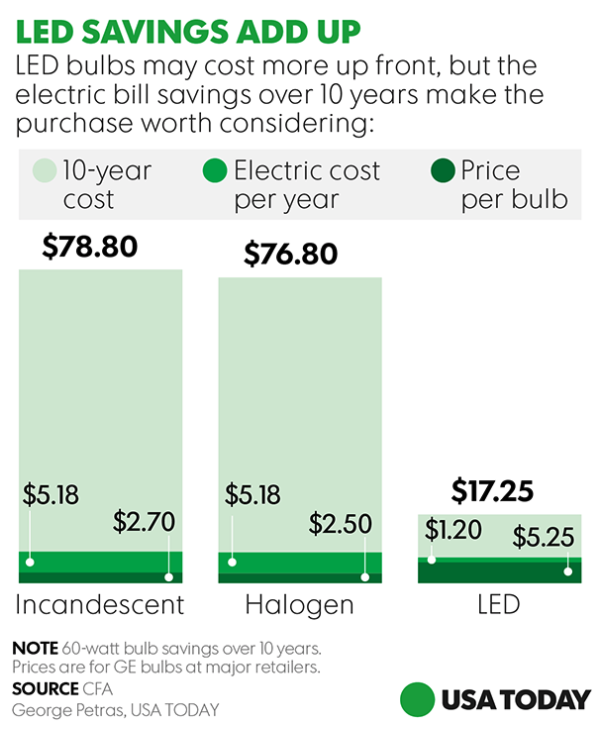 Appliances & Electronics
According to Energy Sage, 13% of your energy bills are made up by the use of appliances. For big appliances, such as refrigerators, washers and dryers, ovens, and dishwashers, ensure you have the most energy efficient models. This can save you up to 25% on your energy bills each month. As for smaller appliances, such as toaster ovens, coffee makers, laptops, and TVs, keep them unplugged and/ or turned off when not in use. 
Washer & Dryer
We know washing with cold water and hanging your clothes to dry help to save a little money on our energy bills. But, how can we make a bigger impact in the laundry room while still being efficient and effective in getting our laundry done? ENERGY-STAR certified washers and dryers can help save some big bucks! According to Dayton Daily News, these washers and dryers use about 25% less energy, and the washers themselves use about 45% less water. Even better, they also reduce your carbon footprint, so they're much more environmentally friendly.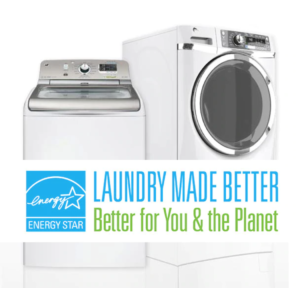 Fridge
Practicing smart habits with your refrigerator is a great way to conserve energy at home. These smart habits include keeping the door closed as often as possible, keeping space between the wall and the fridge for good circulation, and keeping your freezer full. However, to save more energy, we recommend going with an ENERGY-STAR fridge. ENERGY STAR refrigerators are 9% more energy efficient than models meeting federal minimum energy efficiency standards. Those are savings that add up!
According to Direct Energy, heating and cooling our homes makes up about 46% of our energy bills each month. While that is a huge expense, it also offers a huge place to save money and conserve energy at home. Investing in an energy-efficient American Standard comfort system can save you up to 50% on your energy bills every month (depending on your current system). As an added bonus, they run quieter, produce better airflow, and have a longer life than systems made even 5 years ago. They're a win for the environment, for your wallet, and for your comfort. 
Learn More
If you're interested in our high-efficiency HVAC systems, contact us at (850) 857-4700. 
Climatech of Professional Air is your local independently owned American Standard Heating & Air Conditioning Customer Care Dealer in Pensacola, FL. We make recommendations on a home-by-home basis to ensure you have the right system for your home, family, and budget. For more information, feel free to email us at [email protected].