Fall Decor Ideas for Your Home 
Looking for some cute and festive fall decor ideas for your home? You came to the right place! There's nothing we love more than getting into the fall spirit. As you follow along with these tips and inspiration, don't forget, decorating certainly isn't one size fits all! You can make your own twist on any of our ideas, or come up with new decor ideas which are entirely your own. In this blog we feature a variety of decorations you can DIY or purchase in store to spruce up your home. Check them out!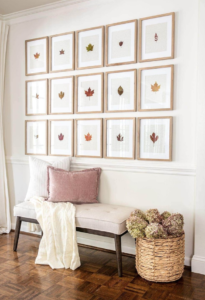 Photo by Bless'er House
Press Leaf Gallery Wall
This press leaf gallery wall will elevate your fall decor in a sophisticated way, and it's so simple to create! Begin by gathering various fall leaves from around your yard or a nearby park. Remember, the more variety, the better! Take these leaves back inside and press them. You can press them between pages of a book, or between pieces of parchment paper with heavy items on top. After a few days, remove the leaves and frame them for your gallery wall.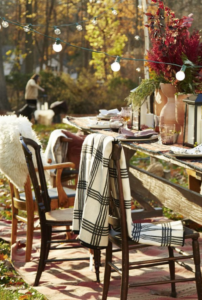 Photo by Mike Garth
Outdoors
While it may be chilly outside, you can warm up your outdoor setup with some fall decor. Choose a warm colored and fun patterned outdoor rug to base your setup on. Then select a few throw pillows and blankets to layer on your outdoor chairs. Finally, pick out some fall foliage, pumpkins, and lanterns to fill your table with. Your guests will be in awe of your outdoor dining setup. Don't forget to do the same inside as well! Decorate your indoor dining area with autumnal tones and fall foliage. It'll feel warm and cozy in no time!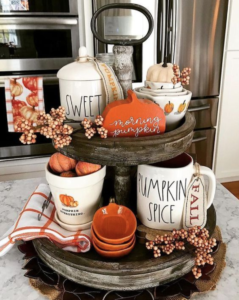 Kitchen
Don't forget about the heart of your home! There are so many great opportunities to add small touches of fall throughout your kitchen. Purchase some fall themed hand towels and rags, or even some scented hand soap in a cute fall themed dispenser! We love pumpkin spice and sweet apple scents. You can add as many decorations as your heart desires. Consider runners for your floor or dining table, seasonal mugs, gourds, painted pumpkins, and more.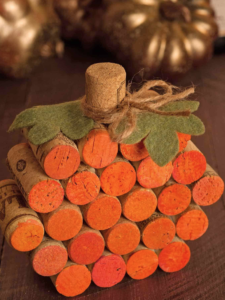 Photo by My Gourmet Connection
Cork Pumpkin
If you're looking for a simple DIY, check out this handmade cork pumpkin! Simply hot glue corks together into a pumpkin shape and paint both ends orange. Cut some green felt into a leaf shape to glue on top. These cork pumpkins are the cutest addition to your home! 
Stay Comfortable
After a full day of decorating, you'll want to relax in the comfort of your home. To ensure you're comfortable throughout the season, sign up for preventative maintenance with Climatech of Professional Air. During our maintenance visits, our technicians will inspect, clean, and make any adjustments to your system necessary.
If you have any questions about your HVAC system, our professional staff can answer them and help schedule an appointment to have your comfort system repaired or replaced. Call us at 850-857-4700 or email us at [email protected]. Be sure to follow us on Facebook and Instagram!