3 Hearty Casseroles to Make for Busy Fall Nights
Looking for the perfect recipes to get in the spirit of fall without spending hours in the kitchen? These hearty casseroles might just be the perfect thing for you! Check out the recipes below and start cooking!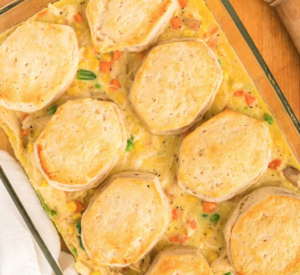 Chicken Pot Pie Casserole
Are you in the mood for creamy chicken and vegetables loaded with gravy and topped with buttery, flakey biscuits? Who isn't!? This hearty casserole dish is simple to make, and you likely already have about half the ingredients! 
Ingredients: 
1 can of biscuits

4 cups frozen mixed veggies

4 cups shredded chicken

2 cups cream of chicken soup

4 tbsp of butter

2 cups milk

1 tsp salt

½ tsp pepper

½ tsp garlic powder
Directions
Preheat oven to 375 degrees & bre-bake biscuits for 8 minutes.

In a large skillet, heat 2 tbsp of butter over medium-high heat. 

Add the frozen vegetables and cook for 10-15 minutes.

Add the chicken, milk, cream of chicken soup, salt, and pepper to the skillet.

Stir to combine and heat for 5 minutes.

Spray a 9 x 13 in. casserole dish with nonstick cooking spray. 

Spread chicken mixture evenly into the baking dish.

Place pre-baked biscuits evenly on top of the filling. 

Melt mixture of 2 tablespoons of butter and garlic powder.

Pour melted butter over the top of the biscuits.

Place in oven and cook for 10-12 minutes.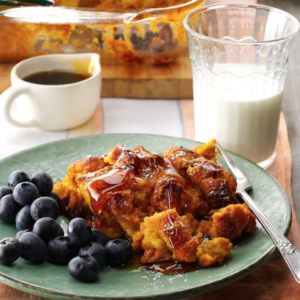 Spiced Pumpkin French Toast Casserole
Looking for a way to settle your sweet tooth? How about breakfast for dinner?! This spiced pumpkin french toast casserole will certainly soothe your soul. While this recipe might take a few more ingredients and a little more time, we promise it's so worth it!
Ingredients: 
8 large eggs

2 cups whole milk

2 cups heavy whipping cream

1 can (15 ounces) solid-pack pumpkin

1-1/2 cups sugar

2 teaspoons vanilla extract

1-1/2 teaspoons ground cinnamon

1/2 teaspoon salt

1/2 teaspoon ground ginger

1/4 teaspoon ground nutmeg

14 cups cubed challah or egg bread (about 28 ounces)

1/2 cup raisins

Confectioners' sugar and maple syrup, optional
Directions:
In a large bowl, whisk the first 10 ingredients until blended. 

Add bread cubes and raisins; gently stir to combine. 

Transfer to a greased 13×9-in. baking dish. 

Refrigerate, covered, several hours or overnight.

Preheat oven to 350°. 

Remove casserole from refrigerator while oven heats. 

Bake, uncovered for 65-75 minutes.

Let stand 5-10 minutes before serving. 

If desired, serve with confectioners' sugar and syrup.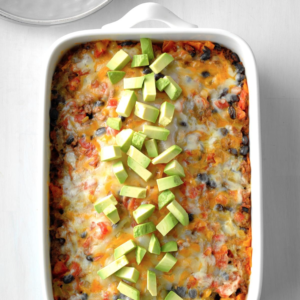 Cheesy Fiesta Beef Casserole
You had to know we couldn't leave a Mexican inspired casserole dish off our list. The cheesy fiesta beef casserole is the perfect dish whether you're having a bunch of friends and family over, or if it's just you and the kids. Everyone loves a Mexican casserole!
Ingredients
1 lb ground beef

1 medium chopped onion

1 can (15 ounces) black beans, rinsed and drained

1 cup picante sauce

1/2 tsp chili powder

1 can (10-1/2 ounces) condensed cream of chicken soup

1 can (10 ounces) diced tomatoes and green chiles, undrained

1 can (4 ounces) chopped green chiles

1 package (9-3/4 ounces) nacho-flavored tortilla chips or plain tortilla chips, crushed

1 cup shredded sharp cheddar cheese

1 cup shredded Monterey Jack cheese

Optional: Cubed avocado and sour cream
Directions
In a large skillet, cook beef and onion over medium heat 6-8 minutes, breaking up beef into crumbles.

Drain beef and return to pan. 

Stir in beans, picante sauce and chili powder.

In a bowl, combine soup, tomatoes and green chiles. 

In a lightly greased 2-1/2-qt. baking dish, layer half the chips, beef mixture, soup mixture and cheeses. 

Repeat layers.

Microwave on medium-high, uncovered, until heated through and cheese is melted, about 12 minutes. 

If desired, top with avocado and sour cream.
Stay Comfortable This Fall
While we may not be much help cooking in the kitchen, we can keep you comfortable all the while! If your HVAC system isn't keeping you comfortable this fall, contact Climatech of Professional Air. Our technicians are readily available to provide you with the best HVAC services on the coast. Simply call us at 850-857-4700 or email us at [email protected] to schedule your HVAC appointment today. 
Climatech of Professional Air is a trusted American Standard Heating & Air Conditioning Customer Care Dealer in Pensacola, FL. Be sure to follow us on Facebook and Instagram! hearty casseroles busy fall nights hearty casseroles busy fall nights hearty casseroles busy fall nights hearty casseroles busy fall nights hearty casseroles busy fall nights