Nostalgic Winter Breakfast Recipes
The perfect time for delicious, warm, comforting meals is the winter season. On a cold winter day, it can be hard to get out of bed. With a warm delicious breakfast waiting for you, it can be much easier to get a jump on the day! If you are looking to get back to your roots, check out some of these nostalgic winter breakfast recipes. 
Sweet 
If you have a sweet tooth, these breakfast options are perfect for you! Who doesn't want a sweet, delicious pastry, slice of french toast, or cinnamon rolls for breakfast? To satisfy your cravings, check out these sweet winter breakfast recipes!
French Toast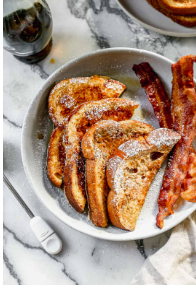 If you're not a fan of french toast, cinnamon rolls are another perfect winter breakfast recipe. With delicious pastries covered in cinnamon and frosting, you can't go wrong and your taste buds will thank you! Whether you are serving breakfast for several people or simply wanting a nostalgic breakfast for just you, this simple recipe will be sure to fill your bellies and keep you warm and happy this winter season! Check out the full recipe here https://butternutbakeryblog.com/easy-homemade-cinnamon-rolls/. 
Savory 
Are you looking for a recipe that will keep you satisfied longer? A savory option may be better for your winter breakfast.. 
Biscuits & Gravy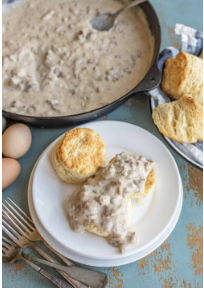 Flaky, buttermilk biscuits with sausage and  gravy are another great breakfast option for a cold winter morning. Whether you want to make your biscuits from scratch or if you are looking for a simpler, quicker recipe, there are tons of options for making this delicious meal. Biscuits and gravy are great for feeding the whole family with ease. 
Eggs, Bacon, & Hash Brown 
Nothing is more classic and nostalgic than a simple breakfast of eggs, bacon or sausage, and hash browns. For a homemade classic breakfast, simply prepare your eggs, fried or scrambled. Cook your bacon or sausage in the skillet, and cook up some hash browns. On a busy weekday, this is a great way to ensure everyone starts the day with a satisfying meal that is quick, easy, and delicious for busy mornings! 
Contact Us
Whatever breakfast makes you feel at home, we want to ensure that your home feels comfortable and cozy too! Contact us if you need any heating assistance this winter season! 
Climatech is an American Standard Customer Care Dealer in Pensacola. For more than 40 years, we've provided Pensacola and the surrounding area with the very best in HVAC services. Need help or have questions? Feel free to contact us. Simply call us at 850-857-4700 or email us at [email protected] to schedule your HVAC maintenance appointment today. 
Climatech of Professional Air is a trusted American Standard Heating & Air Conditioning Customer Care Dealer in Pensacola, FL. Be sure to follow us on Facebook and Instagram! nostalgic winter breakfast recipes nostalgic winter breakfast recipes nostalgic winter breakfast recipes nostalgic winter breakfast recipes