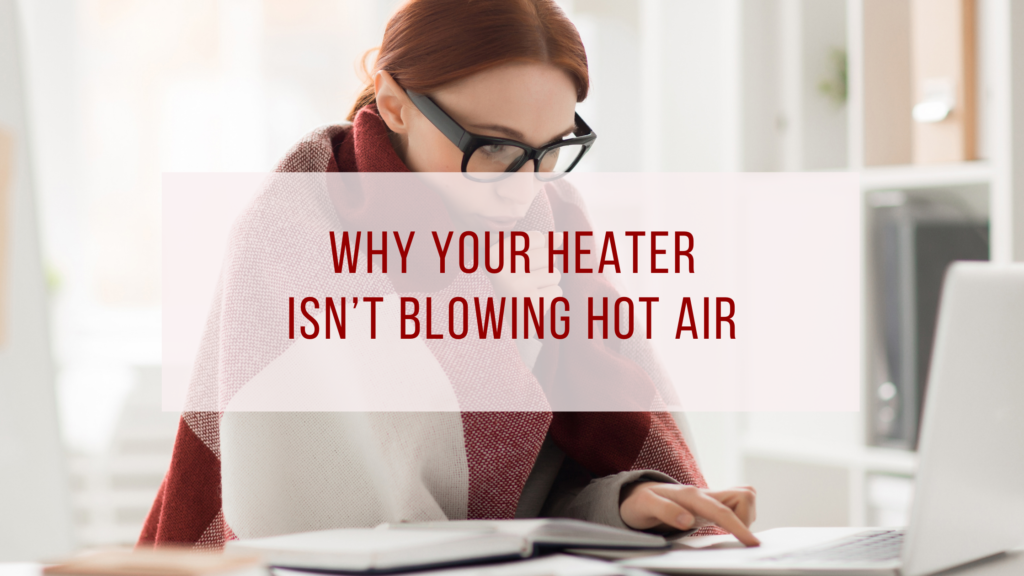 Your Heater Isn't Blowing Hot Air?
As we begin coming into colder weather in Pensacola, now's the time many of us start worrying about our heating systems breaking down. It may not be in the 40's-50's just yet, but when the cold weather hits, we need our heat to work! If you turn on your heat this winter and feel a chilly breeze blowing through your home, check out these possible causes and solutions for why this might be happening.
Thermostat
Sometimes, when you feel cold air blowing out of your vents, it's not your furnace's fault at all. The culprit may be your thermostat! Check to make sure your thermostat is set to "auto" and not "on." When your thermostat is set to "on," air is constantly being pushed throughout your system. The heat from your furnace or heat pump only blows hot air when it is needed to reach the set temperature of your thermostat. Once this temperature is reached, the heat will turn off, but air will continue blowing if the fan is set to "on." Turning it to "auto" will ensure your fan is not constantly blowing even when the heat is not running. 
Another issue regarding the thermostat could be that the batteries are running low. Simply change them and the heat should run fine. One more thing to check for is that you're not in a thermostat war with a family member or coworker. If the set point is lower than you'd like, it's going to blow colder air. Settle on one temperature and keep it there. It's also possible that the new thermostat you've installed yourself is not compatible with your heating system. If you think this might be the case, contact a professional from Climatech of Professional Air.
Filter
After checking the thermostat, ensure that your filter is clean. A clogged filter restricts air flow into your home and can even cause your system to deny requests for heat. Some furnaces are built with an automatic shutoff to prevent the burner from overheating when airflow is restricted. When this happens, the burner will blow cold air when it's supposed to be heating your home. This creates inefficiency and uncomfortable living conditions. Change your filter regularly to prevent cold air flow and high energy bills.
System Source
Before calling a professional when these things don't fix the issue, check what may be a problem at the source. For electric furnaces and heat pumps, ensure they're turned on. If they are, ensure the breaker connected to the system is turned on as well. If you have a furnace powered by oil, ensure there is oil in the tank. If not, it's an easy fix; just refill it depending on the manufacturer's instructions. Lastly, and most commonly, if you have a gas powered furnace, ensure the supply-valve is open. If not, the gas can't reach the burners and they'll never ignite. 
Ductwork
Ductwork is subject to regular wear and tear over time, developing cracks or loose ends that can cause system issues. One of these issues being letting outside air into your system past the filter. This creates a polluted atmosphere in your home as well as colder conditions, even when your heat is running. To find out whether your ducts need repair or replacement, read our helpful article on the website: 5 Signs Your Air Ducts Need To Be Repaired or Replaced. Fixing this problem sooner rather than later will prevent bigger issues from arising.
What's Next?
There are many other eligible culprits for why your heater isn't blowing hot air. It's important to keep all aspects of your system clean such as sensors, the burner, the gas valve, and the condensate line. These components of your heating system can be easily checked with regular preventive maintenance from Climatech of Professional Air.
If you need heating repair, replacement, or maintenance, contact Climatech of Professional Air. Our technicians will keep your system running efficiently or, if you're looking to upgrade, help you find the right equipment for your needs. Call (850) 857-4700 today to make an appointment. Be sure to follow us on Facebook and Instagram for updates, information, and more helpful homeowner tips! Heater isn't blowing hot air Heater Isn't Blowing Hot Air