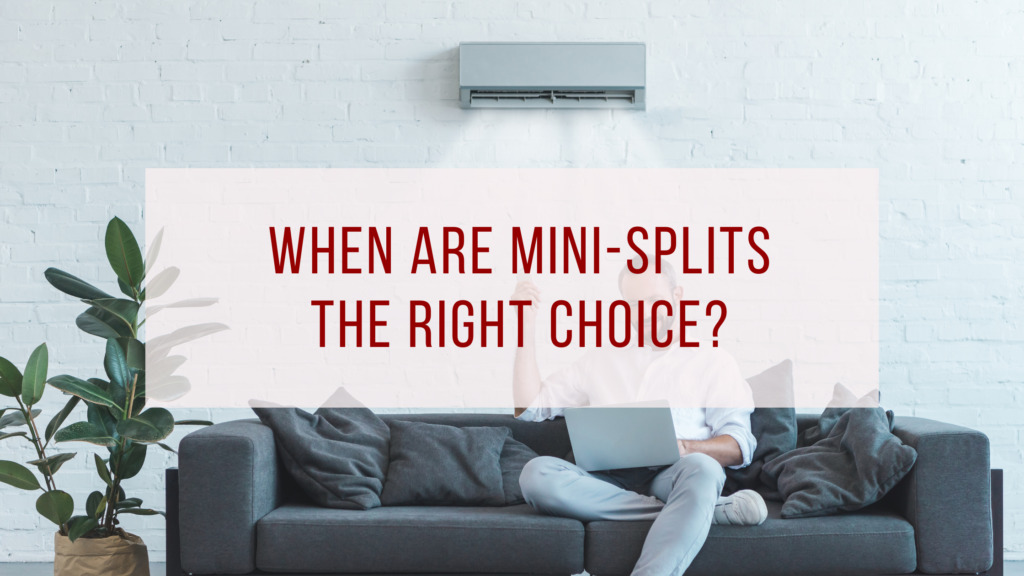 When Should I Consider Mini-Splits?
Have you recently made home additions for extra living space? Do you have a bonus room that stays too hot or cold? Maybe you just turned your garage into an apartment or built a cabin in the mountains. Or, maybe you're renovating an older home with no ductwork and want to install a new, efficient, low maintenance system. All these scenarios have one thing in common: they're great instances for investing in a ductless mini-split system. While they're extremely efficient and provide consistent room comfort, the decision to install is different for every homeowner.
What is a mini-split system?
If you don't know what a mini-split system is, let's go over that first. A mini-split system is a ductless heat pump or air conditioner that combines a wall-mounted indoor unit with an outdoor compressor. They're often used in place of a window unit for better comfort, efficiency, and noise level while heating or cooling relatively small spaces. mini-splits
Where can I use a mini-split system? 
Depending on your situation as well as the construction of the space, mini-splits can be a great option for a variety of different uses such as:
Garage apartments

Bonus rooms

Sun rooms

Home additions

Basements

Cabins

mini-splits

Tiny homes

Homes without ductwork

Small offices

Event spaces

mini-splits

Home renovations
What are the advantages of a mini-split system?
Mini-splits obviously have advantages in certain situations over other comfort systems. If you think a mini-split system may be better for your situation, check out the advantages below:
Ability to heat or cool individual rooms.

Zoning for multiple mini-split wall mounts to be hooked up to one compressor. 

Each mini-split contains its own thermostat, so it only runs when you need it to.

Small in size and quiet, making them more desirable than window units.

Built for optimal energy efficiency, saving you money at all times.

Easy to install and maintain.

Provide flexibility in design options as different units can be mounted or placed in different ways.
Go with a good contractor.
Contractors who are experienced with installing mini-split units will ultimately save you time and money. At Climatech, we know how to correctly size your indoor system to the space it will be placed in for optimal energy efficiency. We will not recommend a system that's too large for your home as it could waste energy and provide inadequate temperature and humidity control. We have years of experience placing these systems in Pensacola, Gulf Breeze, Milton, and the surrounding communities. If you're ready to talk about installing your new mini-split system, call the professionals at Climatech today! 
Learn More
Climatech of Professional Air is your local American Standard Heating & Air Conditioning dealer in Pensacola, FL. We make recommendations on a home-by-home basis to ensure you have the right system for your home, family, and budget. For more information, call us at 850-968-2161 or email us at [email protected]. mini-splits