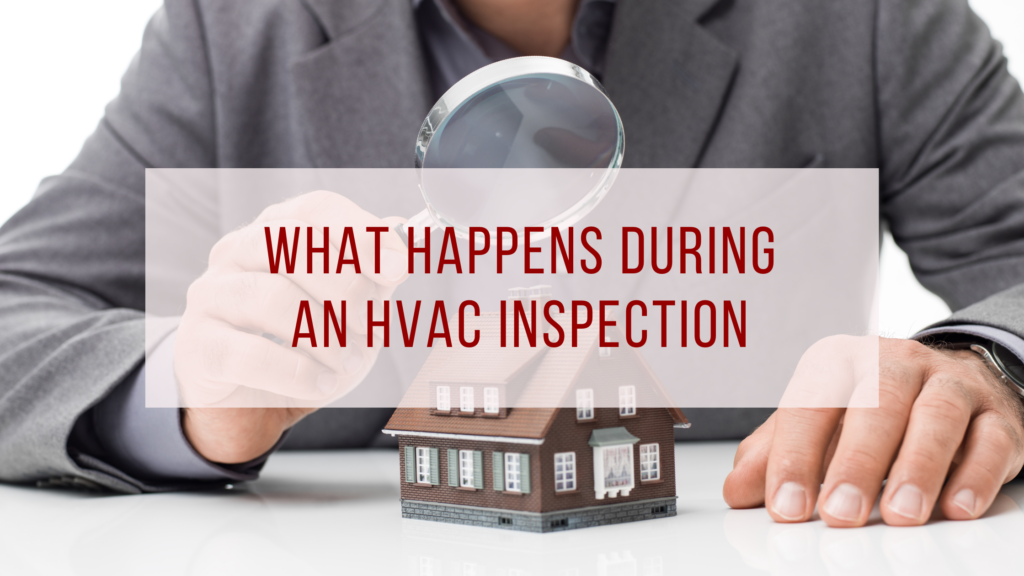 Have you had your heating and cooling system inspected recently? If not, now is a great time to schedule an HVAC inspection. Regular inspections are designed to boost your heating and cooling system's efficiency and identify potential areas of trouble to fix them before they need extensive repair. The best way to enjoy problem-free home comfort throughout the year is to have regularly scheduled HVAC service with a trusted heating and cooling company. 
However, most homeowners don't know what goes into inspecting HVAC systems, and therefore, will not sign up for scheduled service. That's why we're sharing what happens during our inspection process with you! 
Important Safety and Efficiency Checks

HVAC inspection
Your HVAC system incorporates several moving parts including electrical systems and, if you have a gas-powered furnace or heater, combustion assemblies. Over time, dirt, weather, and regular wear and tear can affect the condition of these systems, posing a hazard if not checked regularly. During an HVAC inspection, our technician will check that all the parts of your HVAC system are clean and in good condition to eliminate any safety hazards. Additionally, any built-in safety mechanisms will also be checked to ensure they are working properly. 
Our technician will take a thorough look at any vents or flues to ensure they are clean, undamaged, and venting properly to the outdoors. Because the condition of your HVAC system affects the quality of your indoor air, we will also inspect any associated ducts for dirt and dust buildup. If cleaning or repair is needed, our technician will alert you. In many cases, simple cleaning and maintenance can be performed immediately, but larger jobs, such as duct cleaning, may require additional appointments.
Assessment of Your Heating and Cooling Efficiency
The goal of an HVAC inspection is not only to ensure home safety, but also to determine whether your furnace, heat pump, or air conditioner are working properly to meet your current home comfort needs. 
Your comfort system's efficiency relies heavily on the condition, installation quality, and size of the appliances currently in your home. When your HVAC system is dirty or needs repair, it works harder to achieve desired comfort levels. This requires more energy that leads to higher totals on your monthly utility bills. 
Similarly, a system that is not sized correctly, simply cannot meet your needs and will consume excess energy and often leave you feeling too hot or too cold. An HVAC inspection will identify areas where cleaning, repairs, or replacement could benefit your system in terms of overall efficiency. In many cases, through our inspections we find cleaning, lubrication, and minor repairs are all that's needed to keep your HVAC system operating at peak performance. However, our technician will also note issues such as aging or improperly-sized appliances so you can consider alternative options that may better fit the needs of your home and your family.
Learn More
During our HVAC inspection, a NATE qualified technician will ensure your system is working efficiently and keep you up to date on the age, condition, and potential upgrades available for your comfort system.
Climatech of Professional Air is a fully licensed and insured HVAC contractor serving Pensacola and the surrounding area. For more than 40 years, our goal has been to make your home comfortable while adhering to policies of honesty, integrity and courtesy. To learn more about our company or the services we offer, visit our website at https://climatechproair.com/. Feel free to call us at 850-968-2161 with any questions. Be sure to visit us on Facebook and Instagram!