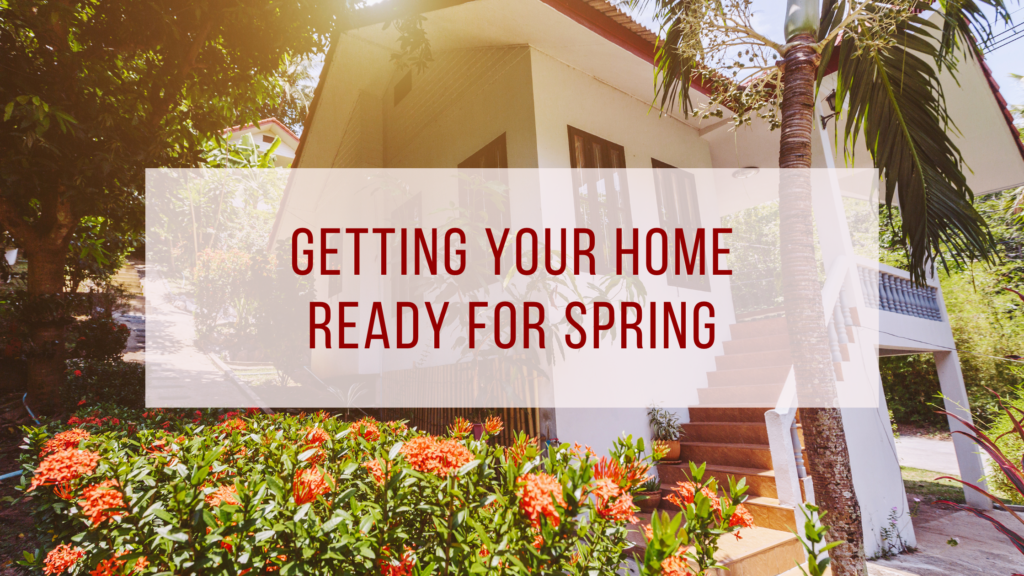 Getting Your Home Ready for Spring
In Pensacola, the weather doesn't stay cold long, and the heat of the summer is blazing hot. At the first mention of spring, we can start expecting warmer weather which can affect our homes. That's why it's so important to take the proper steps in getting your home ready for spring. 
Clean The Air
Of course we've all heard of spring cleaning, and this year it'll be more prevalent than ever before. Maybe you had a sick family member or just spent a lot of time inside; regardless, the air in your home needs freshening up. Wipe down all flat surfaces, clean the floors, and dust in those hard-to-reach places to ensure no dust is sitting stagnant in your home. 
It's important to also change your air filter in your HVAC system before warm weather hits. This will allow stronger and cleaner air flow through your system into your home, leaving you more comfortable at a lesser expense. If your vents haven't been cleaned in a while, clean those as well so they're free of dust or debris that could loosen and enter your home.
If you haven't installed an air purification system, now's the time. Eliminate allergens currently in your home as well as those that will be here this spring with an air purification system. These systems, such as the REME HALO® Whole Home In-Duct Air Purifier, eliminate 99.9% of bacteria, mold, viruses, and other airborne allergens from the air and surfaces of your home. You'll breathe cleaner, healthier air than ever before.
Check Home's Exterior
Over time, elements on the outside of your home will begin to deteriorate due to weather conditions and regular wear and tear. Because of this, it's important you regularly check the outside of your home for anything that needs to be repaired or replaced, especially with the salty air in the Pensacola area.
Ensure you do not have roof damage, as that can lead to interior damage and also decrease the value of your home. Check doors and windows for proper caulking and weather stripping to make sure there are no leaks for water or outside air to enter your home. Also, regularly check your home's foundation to ensure there are no new cracks or strange settling issues.
While you're outside, be sure to clean the area around your outdoor unit to help it operate smoothly throughout the spring and summer. If you notice mold, excess moisture, or excessively high energy bills, give Climatech of Professional Air a call to diagnose any technical issues. We specialize in mold prevention and moisture control, and we offer top-notch maintenance services in and around Pensacola.
Replace the Old
If you have burned out lightbulbs, a moldy showerhead, or cracked windows, now would be a great time to replace them. Everything in your home has been put there to help you live more comfortably, and if things aren't working or are leading to living an unhealthy lifestyle, those things need to be replaced. 
Also, if your HVAC system is over 10 years old or in need of constant repairs, it's a good idea to replace it too. Advancements in technology have allowed newer systems to be more energy efficient, saving you money and creating a more comfortable home. Plus, new systems  last longer with regular preventative maintenance. A new system from Climatech of Professional Air could even last 15 years or more with proper care!
Sign Up for Preventative Maintenance
Heating and cooling systems have a way of breaking down when the weather is at its worst, usually during a sizzling summer heat wave. Regular preventative maintenance can stop the need for costly repairs by keeping your system running smoothly throughout every season. That way, you won't be left without air conditioning when you need it most. On top of this, regular maintenance also maximizes the life expectancy of your comfort system.
You do your spring cleaning, and we'll do ours, including:
Testing system starting capabilities

Monitoring refrigerant pressure

Testing safety controls

Cleaning or replacing air filters

Cleaning and adjusting blower components 

Measuring for correct air flow

Measuring volts/ amps

Adjusting thermostat calibration

Lightly cleaning evaporator coils and condensing coils

Cleaning condensate drains

Applying protective coating to outside unit
Learn More
If you're interested in HVAC maintenance, system replacement, or air purification solutions, visit our website at https://climatechproair.com/ or give us a call at (850) 857-4700. 
Climatech of Professional Air is your local American Standard Heating & Air Conditioning Customer Care Dealer in Pensacola, FL. We make recommendations on a home-by-home basis to ensure you have the right system for your home, family, and budget. For more information, feel free to email us at [email protected].
 Be sure to follow us on Facebook and Instagram! getting your home ready for spring In Pensacola, the weather doesn't stay cold long, and the heat of the summer is blazing hot.