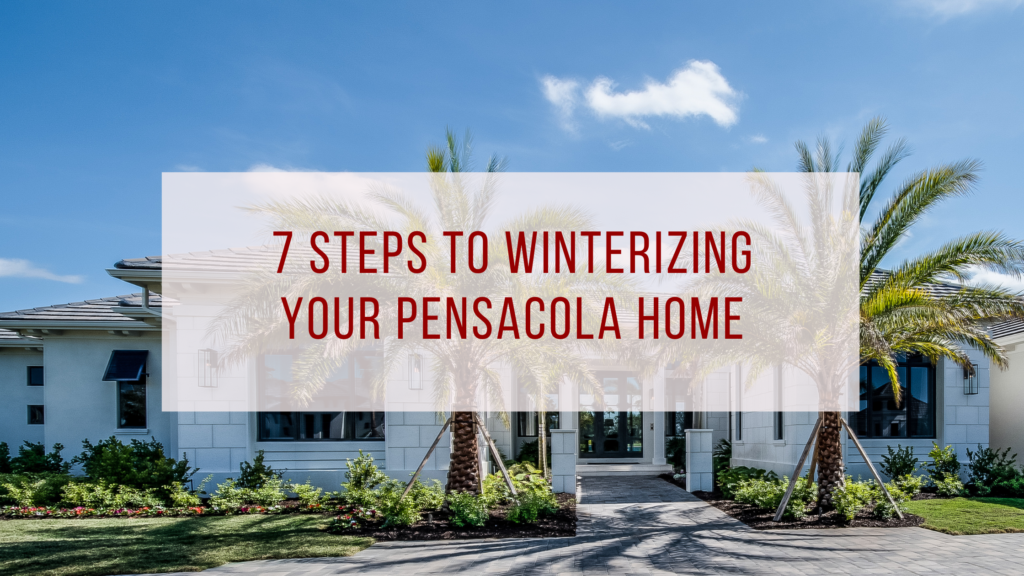 Winterizing Your Pensacola Home
You've spent countless hours making your Pensacola house a home, but have you spent time thinking about how you're going to protect it this winter? While it may not get too cold in Pensacola, there are still numerous things you should do to get your home ready for the cooler season. Without properly protecting your home from colder conditions, you could be left with expensive repairs and uncomfortable living conditions. Learn how to properly winterize your Pensacola home by reading this helpful article.
1. Weatherstripping & Windows
The harsh weather conditions we experience in Pensacola, from blazing heat to hurricanes, affect our homes, especially the outside of them. One element that may need some extra attention before the cooler weather sets in is your weather stripping. Check the weatherstripping around your doors and windows to ensure it's not damaged or deteriorated. If it is, replace it. If you haven't already, investing in storm doors or windows could be a great option for your home. They help protect your home against harsh weather conditions and regulate temperatures more efficiently. Every Pensacola home should have these!
2. Outdoor Items
In Pensacola, almost every home has outdoor furniture, grills, and other equipment to help us enjoy the beautiful weather we have here! Although these items are made for use outside, they aren't made to withstand harsh weather conditions. As the weather starts to cool down, protect your outdoor items by bringing them inside. With cold temperatures and rain, furniture and equipment could begin to rust and will be ruined when you're ready to use it again in the spring. Items can be brought into your basement, garage, shed, or another, preferably temperature controlled, environment. If you have plants that can be moved inside, bring them in too! Especially if, on the rare occasion, it gets below 45 degrees. Indoor plants can improve air purification in your home!
3. Fireplace
If you're planning to use your fireplace this season, even once or twice, you'll need to check that all components are ready for use! This means making sure the chimney is clean and free of debris, with a clean path outside. Ensure there is no dust or ash buildup, and remove any nests that have been constructed by the neighborhood birds. Make sure the screen is not damaged and the logs have not gathered dust. Lastly, keep the proper tools close by the fireplace and know the correct ways to use them.
4. Insulation
Homes are insulated to keep our inside temperatures in and outside temperatures out. In Pensacola, we're so thankful for insulation, especially in the summer, but it's also very important for the colder months as well. If your home loses heat when the weather outside is cold, or if your system is heating inefficiently it could be due to improper insulation. Over time, regular wear and tear can cause insulation to crack or flake. This leaves you feeling uncomfortable in your home and drives up your energy bills. Ensure you have sufficient insulation in your walls and attic, and fill in any gaps. This way, you'll keep your family comfortable and save money on your monthly energy bills.
5. Programmable Thermostat 
In Pensacola, programmable thermostats can save you tons of money because of our extreme temperatures. These thermostats incorporate schedule control settings for optimal temperature and efficiency while you're at home or away. In the winter, plan to schedule your thermostat to be set at lower temperatures while you're away and back to a comfortable temperature before you even return home. You can save money with minimal effort, and you even have the option of controlling your thermostat from your smartphone. 
6. Roof
Your roof withstands the wrath of every season, and if you live in Pensacola, it's likely you may have recently replaced it due to storm damage. However, if you haven't, inspect it now to ensure there are no missing or broken shingles. Before cooler temperatures hit, also clear debris from the rooftop and gutters. You'll want to check the inside of your home: the attic and ceilings. Ensure they're not leaking and that the attic is properly ventilated to prevent the growth of mold and mildew. In our humid climate, this is very common.
7. Heating System
Even in Pensacola, heating our homes is an important part of winter, so regularly inspecting and maintaining your heating system is also important. Regular maintenance can help you avoid costly emergency repairs or a complete system breakdown at a time when you need it most. During maintenance visits from Climatech of Professional Air, our licensed technicians inspect all components of your heat pump or furnace to ensure they'll work properly through the winter. Our preventative maintenance plans even help to prolong the life of your system, saving you money now and later.
If your system has been underperforming the past few seasons, or if it's over 10 years old, it may be time for a replacement. Luckily, we offer top-of-the-line American Standard heat pumps and furnaces. Our licensed technicians are trained to make recommendations on a home-by-home basis to ensure you get the best for your home, family, and budget. If you think you may be in the market for a new system, give us a call today. winterizing your Pensacola home
Learn More
Climatech of Professional Air is your local American Standard Heating & Air Conditioning dealer in Pensacola, FL. We make recommendations on a home-by-home basis to ensure you have the right system for your home, family, and budget. For more information on winterizing your Pensacola home, call us at (850) 857-4700 or email us at [email protected].
Be sure to follow us on Facebook and Instagram! winterizing your pensacola home winterizing your pensacola home on